SKY IN, LIGHT DOWN, LOOK OUT
Himlen ind, Lyset ned, Blikket ud
Langenæskirken, Denmark, on-going
A total decoration and renovation of The Langenæs Church.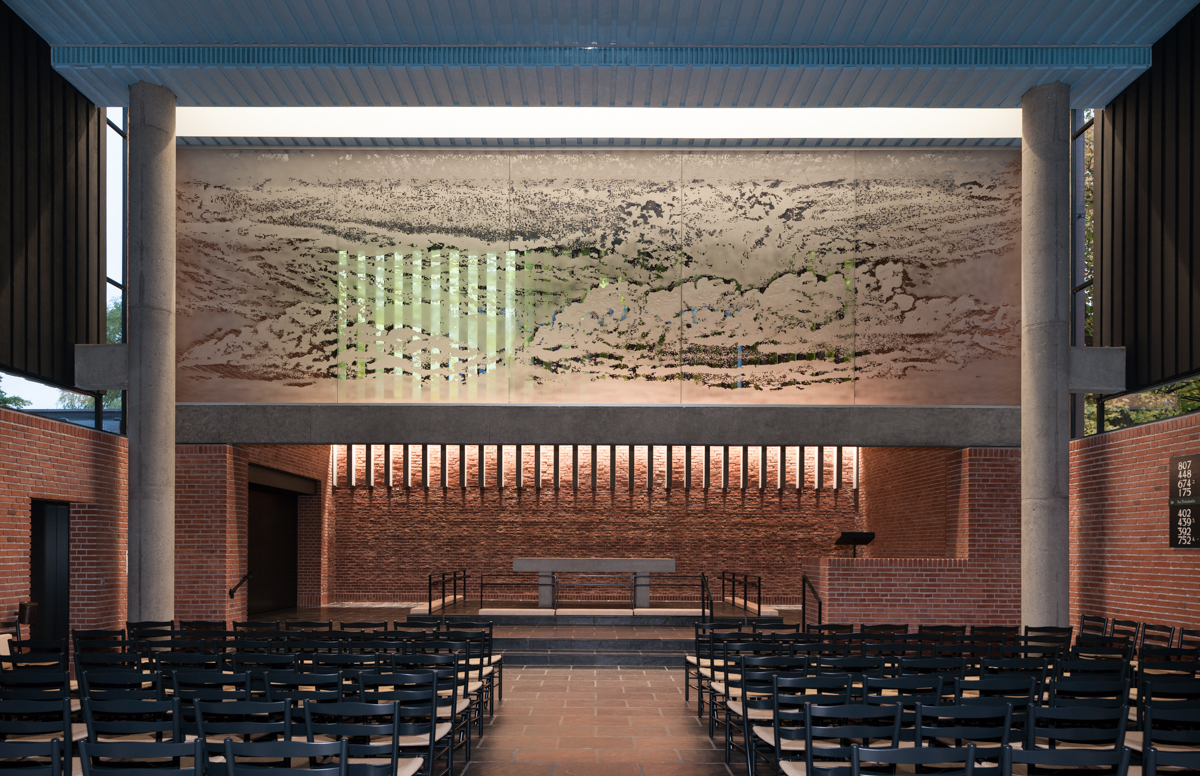 Unpacking the church with respect
Together with CUBO Architects Elle-Mie is completing a total decoration and renovation of The Langenæs Church. The architects Richter and Gravers designed the church that opened in 1966. The concept of "Sky in, Light Aown, Look Out" points to an empathetic reading of the space, its history and its potentials. The vision is to 'unpack' the church and create a space where light and sound sustain the liturgical and architectural qualities. Thus, the mission is to update the church while retaining its sixties characteristics. The decoration concept consists of yellow glass towards the south and blue towards north with light crevice between the church nave and the chorus. A huge sandblasted glass wall portrays the sky over Langenæs photographed in October 2012. The decoration points to the modernist vision of creating new ways of living closer to the elements, the sky and the horizon.
Work
A total decoration and renovation of Langenæskirken.
Exhibited / Presented
Langenæs Kirke.
Collaboration / Funding
Concept by Elle-Mie Ejdrup. Realised together with CUBO Architects and a team including glazier Per Hebsgaard, Neonsign and Osram. Thanks to Poul Henning Bartholin, Niels Vium, Anne Ehlers Niels Bertelsen, Århus Stift, Langenæs Kirkes Menighedsråd.

Pictures
The process
Sketches
Publications
Concept presentation by Elle-Mie Ejdrup Hansen
Main project description and architectural drawings by Cubo architects and Elle-Mie Ejdrup Hansen.