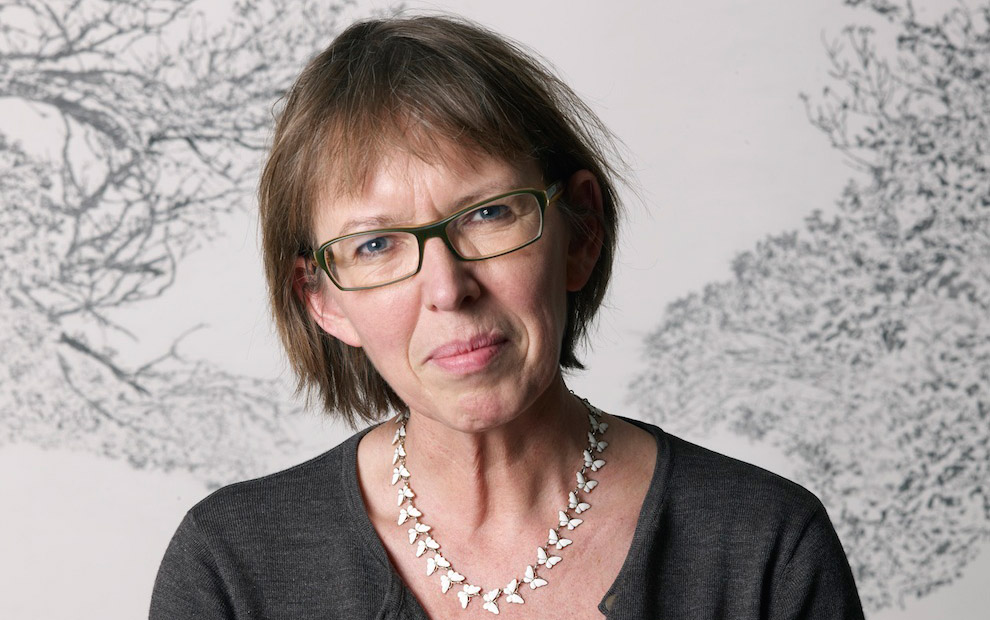 Elle-Mie Ejdrup Hansen
b. 1958
Sculptor, member of the Arts Society
Elle-Mie Ejdrup Hansen explores a variety of media ranging from drawing and classic oil painting to large-scale site-specific works that investigate relations between space, technology and people. The outset is often a specific topography and spatiality – be it a characteristic Danish coastline, a field in Western Jutland, a building complex in a socially challenged neighbourhood or a church.
A common denominator in the bigger works is an interest in new technology, such as different types of light, video or new software. Often, the works include collaborations with people from other disciplines, mainly composers and musicians, but also often programmers, interaction designers and tech-specialists. Thus, the works are created in close collaboration with many people and often engage in a dialogue with specific communities and places.
Curriculum Vitae
Selected work in progress
Soloexhibition Viborg Kunsthal 2020
Road safety in two villages Sjørring and Hundborg
Commissioned by Thisted Municipality and Tryg Fonden.
Ejdrup & Ejdrup 2018/2019.
The desire is to seize the traffic problems approached in a new way, namely via the art to examine the effect this will have. One concept focuses on new technology and reward and the other focuses on creating a space for reflection and reflection.
17 Days Aabyskole ( competition)
Project STOL (Chair) Grasslands 2019/2020
Project Chair is a citizen / art / design project that activates and revitalizes the cultural heritage.
77 Trees Ejdrup&Ejdrup
A public art project in public space in the village of Stavtrup.
One Thousand Meter Light
A minimal work, a light line at 5 meters height
Settlementet, Vesterbro
The task is to outline an integrated holistic approach, a contemporary art and a renovation that challenges and creates added value for the Settlement, their users, employees, volunteers. Vesterbro, Copenhagen.
Prigow Foundation, Rusland 2020
Freiheit, Tempelhof Berlin
European Voices
European Voices – a performarmativ installation. European Voices is a processual and collective artwork connecting people and places throughout Europe. Local voices reading a poem in 12 cities are turned into a rich sound composition.
IN SITU Platform & KIT
Competitions 2017/18
Aarhus University Hospital
Idea and sketch competition for the project "artistic overall processing" of church room, reflection room, common area.
A Light Bridge, Gudenåen One Hundred Meter Light
Træk Vejret (Breathe) Blågårds Plads in Nørrebro. Ejdrup Ejdrup Lighting art in connection with dark and unsafe passages
Selected grants
2019
Statens Kunstfonds Arbejdslegat
2015
Color award 2015, Langenæskirken
2014
Nominated for the Light Price of the Year 2014 for Langenæskirken.
2013
Nordea Fondens award 'One hundred Meters Sky'
2010
Statens Kunstfonds Arbejdslegat
2009
Anne Marie Talmanyi, tidligere Carl Nielsens Fonds
Honorary Grant
1997
Nordic Art Prize, Anna Nordlander Museum (See)
Selected publications
2016
WELCOME Vestre Prison with concepts, texts and mainly the inscriptions of their inmates and their relatives.
2015
Freiheit– Tempelhof
2015
Sky in – Light down – Look out
A book about decorating and renovation with philosophical, theological, art historical, architectural and theoretical texts, as well as a conversation between vicar Anne Ehlers and Elle-Mie Ejdrup Hansen. The authors are: Professor Dorthe Jørgensen, Bishop Kjeld Holm, Museum Inspector Birgit Pedersen, Aros, City Architect Stephen Willacy Art History Line Manscher.
2012
Video Light and voices
2011
Catalog and 6 videos Light – landscape and Voices
2010
Video, Gellerup – Light and changes
2009
Video, From dusk to dawn
2001
Catalog, Space and Spatiality, DK
1998
Video, Ögonblicket
1995
Sketch catalog, Peace Sculpture 1995
1995
Catalog, Fredsskulptur1995
1995
Video PEACE SCULPTURE 1995 22 kunstnere
1993
Catalog, Linien – Lyset
1993
Video, The Line
1991
Video GAVERNES LAND, Georgien.
Residency
2018
Air Tækker Berlin
2016
Det Danske Institut i Rom
2014
Air Tækker Berlin
Selected commissioned work
2016
Welcome, Vestre Prison, Statens Kunstfond
2013
A decoration and complete renovation
Sky in – Light down – Look out , Langenæskirke
2011
Atletion, Aarhus
2000
Altarpiecei Adventskirken, Vanløse
1996
Earth Struer Skole
Selected installations in the public space
2012
Light and Voices, Aarhus Musikhus
2011
Light- Landscape and voices – 6 landscape.
2010
Gellerup Light and changes
A churchline Buderup Ødekirke PORT 2010
2009
From Dusk to Dawn A LED-lightinstallation,
The Sound of, A digitalt soundwork
2002
Imagine,The Evens Foundation: New award > art > community > collaboration >, Paris
2001
The Line 13 beton- og jernkasser med ord,
Thyborøn Havn
1998
The Moment Malmø
1995
The Line – The LIght, 4 maj 1995
Peace Sculpture 1995, 5 maj – 15 august 1995
Selected exhibitions
2013
One Hundred Meter Sky, Sculpture by The Sea
2012
Solo exhibition Carl Henning Pedersens Museum,
2011
CHIC, Louvre Hallerne, Paris
2010
Port 2010 Centemporary Art Festival
2009/2007/2005/2003/2000
Separatudstilling, Galleri Maria Lund, Paris
2000
ASEM Seoul, Sydkorea
Nordisk Kunst, Falkenberg, Sverige
1999
Malmö Konsthall
Video, Peace Sculpturer 1995,
Centre Georges Pompidou
1997
The marked human Museum Anna Nordlander
1997
28 Freie Seiten, Kunsthalle
G.A.M.E.S.,Mönchengladbach,
'ON ICELAND, Between, Nordens Hus Island
1996
Ludwig Forum für Internationale Kunst, Aachen
Jacta Est Alea, Århus Kunstbygning
1994
Solo Sønderjyllands Kunstmuseum
1993
Solo Herning Kunstmuseum
Berlin Film Festival: The LIne
Selected consultancy work and board memberships
2019
Jyrymember Den midtjyske kulturpris
2015 – 16
Committee Chairman, Danish Art Workshops
2013 – 15
Chairman of the Board of Kunsthal Aarhus
2010 – 16
Area Committee, Danish Art Workshops
2009 – 11
Deputy, Visual Arts Association, BKF
2009
Advisor / Judge, Aarhus Municipality and Realdanias
Competition for Godsbanen as Production Center
2004 – 08
New Media Think Tank, Cultural Heritage Agency
2004 – 06
Culture Committee, Aarhus County
2004 – 05
Think Tank on art, technology and culture Aarhus
2005
Visual Arts Committee Aarhus Municipality,
2003 – 08
Head of Industrial Design and Interactive Media Design School Kolding.
2001 – 03
Head of Interactive Media Kolding Design School
2001
Conference, Ministry of Culture,Space and Spatiality,
1989 – 90
Art – Science I & II, Herning High School