PEACE SCULPTURE
Coast of Jutland, 1995
A 532 kilometres line of laser light along the west coast of Jutland.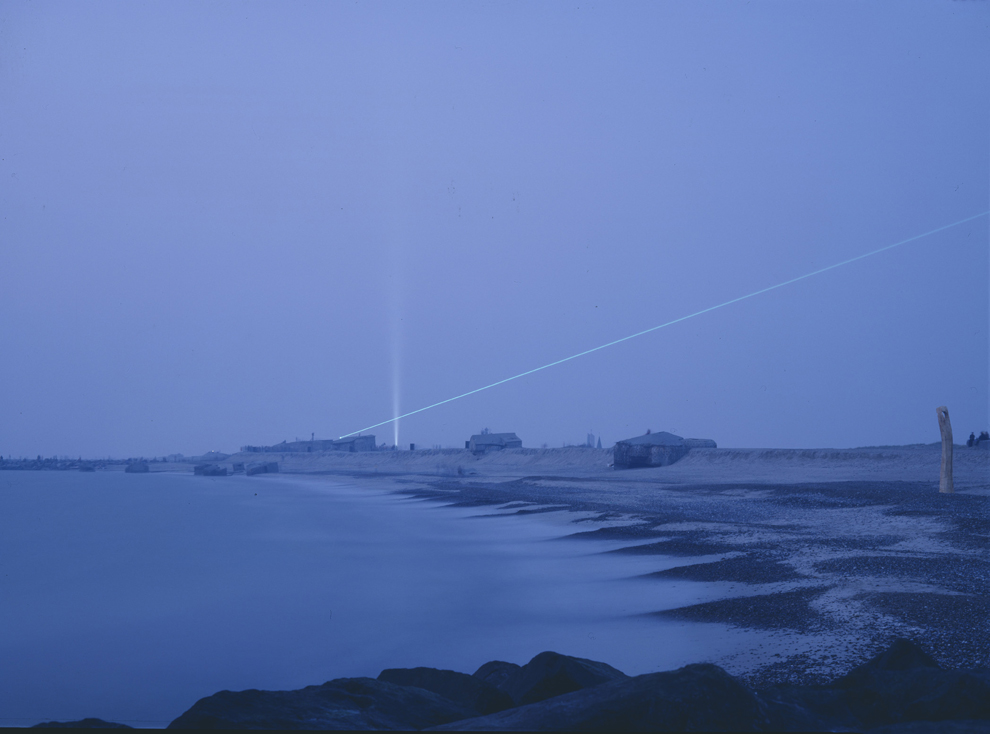 Peace Sculpture consists of a range of elements related to one, simple gesture: a line of light going from the most northern point in Denmark, Skagen, to the German island of Sylt – covering some 530 kilometres. The line connects the massive fortification complex of more than 6000 bunkers that were constructed on the Danish coast during the German occupation. The bunkers, today scattered around by the forces of nature, were made key points for the laser line created along the coast.
A variety of events took place along the line around May 4th. 22 artists from around the world displayed or created works for this specific occasion and places in Denmark and Germany. The artists invited were from both sides of the war; thus Jewish, British, Dutch, US, French and Russian artists as well as Japanese and German artists were represented. A composition by composer Palle Mikkelborg was performed by more than 1000 Danish musicians and played on May 4th – the day of the Danish Liberation
The line points to the history of the bunkers, the amazing structure of the coastline as well as to the Danish tradition for lighting candles on the day of Liberation Day. Linking together Denmark and Germany, Peace Sculpture is an artwork for peace with the consciousness of the reality of war.
Artists: Joakim Bandau, Alfio Bonnano, Sjord Buisman, Jean Clareboudt, Di Cocco, Krijn giezen, Antony Gormley, Hetum Gruber, Elle-Mie Ejdrup Hansen, Geoffrey Hendriks, Jörg Immendorf, Magdalena Jetalova, Susanne Kessler, Micha Laury, Nobuho Nagasawa, Nikolaus nessler, Dmitri Prigov, Serge Spitzer, Bente Stokke, Micha Ullmann, Bill Woodrow, Paul Virilio.
Music: Palle Mikkelborg's piece was played by 1000 musicians from both the classic and modern tradition, including most of the leading Danish symphonic orchestras, ensembles, choirs as well as many of Denmark's most well-known and respected solo-artists.
Work
A 532 kilometres line of laser light along the west coast of Jutland.
Collaboration / Funding
Curation: Professor Wolfgang Becker, director 'Ludwig Forum für Kunst', Aachen & Elle-Mie Ejdrup Hansen. Funding: Peace Sculpture was funded by the six ministries, including the Prime Minister's Office, and the Ministry of Culture, Copenhagen Cultural Capital 1996, three regions, 18 municipalities, eight embassies (Belgium, France, Great Britain, Japan, The Netherlands, Norway, Russia, USA), The Goethe Institute, Insititute Francaise, British Council and a wide selection of funds and sponsors.
A selection of pictures from different locations
Søndervig, May 4th 1995. (Click on the picture for full size)
Elle-Mie Ejdrup Hansen
"Linien – en dannelsesrejse fra Skagen til Sild" ("An educational journey from Skagen to Sild"), 1993.
Video documentation directed by Rikke Rørbech', 1995.
Peace Sculpture | 22 artists | Directed by Rikke Rørbech', 1995.