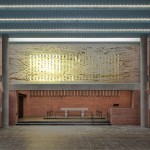 DECORATION OF LANGENES CHURCH COMPLETED.
October 3rd, 2013
The large-scale artistic refurbishment and renovation of the Langenes Church, realized together with Cubo Architects is completed! The new church space will be inaugurated October 13th. Feel free to pass by. The refurbishment takes its point of departure in the original sixties architecture, while adding a stronger relation to the outside, the light, and the elements. Read more about the work in the description of the project Sky In, Light Down, Look Out.
AWARENESS FOR PALLE MIKKELBORG
September 17th, 2013
Composer and musician Palle Mikkelborg is appointed as professor at the Royal Academy of Music (Det Jyske Musikkonservatorium). The piece Awareness is made for the occasion. Taking place at The Concert Hall Aarhus (Musikhuset Aarhus) august 30th and September 1st, the work consists of large projection showing a line that reacts to the music performed by Palle Mikkelborg and some 140 great musicians from Denmark and around the world. Read more about the project here.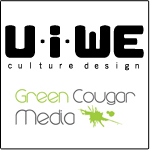 WELCOME TO THE NEW WEBSITE
September 17th, 2013
Welcome to the new website about the work of Elle-Mie Ejdrup Hansen. The ambition of the site is to provide a clear and comprehensive on-line presentation of the work in English. If you have any comments or questions, do not hesitate to give your feedback to Elle-Mie Ejdrup Hansen at em@ejdruphansen.dk. The design and text production has been done in collaboration with UiWE Culture Design and, Kenan Ganic.