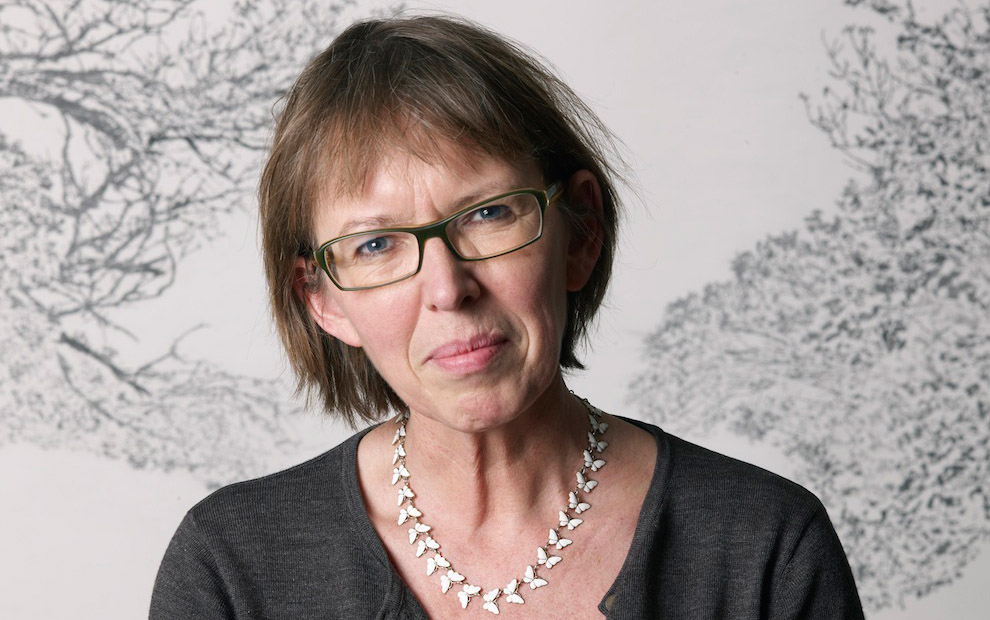 Elle-Mie Ejdrup Hansen, 2011. Photo: Suste Bonnen.
Elle-Mie Ejdrup Hansen explores a variety of media ranging from drawing and classic oil painting to large-scale site-specific works that investigate relations between space, technology and people. The outset is often a specific topography and spatiality – be it a characteristic Danish coastline, a field in Western Jutland, a building complex in a socially challenged neighbourhood or a church.
A common denominator in the bigger works is an interest in new technology, such as different types of light, video or new software. Often, the works include collaborations with people from other disciplines, mainly composers and musicians, but also often programmers, interaction designers and tech-specialists. Thus, the works are created in close collaboration with many people and often engage in a dialogue with specific communities and places.
Curriculum Vitae
Elle-Mie Ejdrup Hansen, b. 1958
Sculptor, member of the renowned artist community Kunstnersamfundet

Selected Public Installations
2013
One Hundred Meters Sky, Sculpture by The Sea
2012
Light and Voices – 6 landscapes
2011
"LIGHT", Kulturringen East Jutland
2010
"Gellerup – Light and Change", Buderup ødekirke PORT 2010
2009
"From Evening till Morning", LED-light installation,
Gestengen, a digital sound work, "The Sound of",
the Municipality of Ringkøbing- Skjern
2002
The Evens Foundation: New award > art > community >
collaboration > Paris
1995
"The Line – the Light", 4 May1995
"Peace Sculpture 1995", 5 May – 15 August 1995
Selected Exhibitions
2012
Separate exhibition Carl Henning Pedersens Museum, Denmark
2011
CHIC – exhibition of drawings, Paris, France
2010
Exhibition of drawings, Galleri 5, Middelfart, Denmark
2009/2007/2005/2003/2000
Solo exhibition, Gallery Maria Lund, Paris
2008
Exhibition, Musée Jean Lurçat, Angers,
2003
Solo exhibition, Espace Croix-Baragnon,
Toulouse, France
2002
Solo exhibition, Skanderborg Museum
2001
Solo exhibition, Skanderborg Kulturhus
2000
Silkeborg Bad "Faith/Art – Art/Faith",
ASEM Seoul, South Korea
Nordic Art, Falkenberg, Sweden
1999
Guest exhibitor, Den Gyldne, Charlottenborg
Solo exhibition, Galleri 21, Malmö
Exhibition of sketches, Malmö Konsthall
Video "Peace Sculpture 1995",
Centre Georges Pompidou, Paris
1997
"Det mærkede menneske ('Marked Man')",
Museum Anna Nordlander, Sweden
"The Beginning of a Collection", Museum of Religious Art
1997
"28 freie Seiten" Kunsthalle G.A.M.E.S., Mönchengladbach, Germany
'ON ICELAND, "Between", the Nordic House, Iceland
1996
Ludwig Forum für Internationale Kunst,
Achen, Germany
"Jacta Est Alea", Århus Kunstbygning
1995
"Art in Church", Ringkøbing Museum
1994
Solo exhibition, Sønderjyllands
Kunstmuseum
Guest exhibitor with the group 'Decembristerne'
1993
Solo exhibition, Herning Kunstmuseum
First showing of the video "The Line – the Light",
Thyborøn Townhall
Guest exhibitor with the group 'Jylland'
Video: "The Line", Berlin Film Festival
1992
Video production "The Line"
Guest with M59.
Solo exhibition, Ringsted Galleriet
1991
The beginning of the project "Peace Sculpture 1995",
Vardzia, Georgia
Video production "Land of Gifts",
Art is time Gallery, the Netherlands
Selected Grants
2013
Nordea Fundation Prize for "One hundred Meters Sky"
2010
Statens Kunstfonds Work Grant
2009
Anne Marie Talmanyi, formerly Carl Nielsens
Fonds Honorary Grant
1997
Anna Nordlander, Nordic Art Prize

Selected Commissioned Work
2011
Atletion, Aarhus
2001
The sculpture "The Line", 13 concrete and iron boxes with words,
Thyborøn Harbour
2000
Alter piece in Adventskirken, Vanløse
1996
"Earth", Struer Skolen
Selected Teaching and Management
2003-2008
Head of Department, Designskolen Kolding
2005
Exhibition of works of students from the Department
of Industrial Design nd Interactive Media, MoMA, New York
2003
DialogWorkshop, Central Academy of Fine
Art – CAFA, Beijing, China
2001-2003
Head of Interactive Media,
Designskolen Kolding
2002
Netbased workshop, CAFA Central Academy
of Fine Art and Design, Beijing.
Workshop Tsinghua University, Beijing
Selected Consultancy Work and Board Memberships
2013
Board member Kunsthal Aarhus Fund
2010
Area committee, Statens Værksteder
2009
Deputy, Billedkunstnernes Forbund, BKF
Board member, KellerC for Experimental Art, Vejle
Advisor to the Municipality of Aarhus,
the Freight Depot asProduction Centre
Advisor to the Wadding Sea Festival 2010
Jury member at the competition "Sustainable living",
The Art Academy, School of Architecture
2004/2008
Member of LYSnET.dk
Member of New Media, Cultural Heritage Board
2004/2005/2006
Consultant to the cultural committee and the open art fund, Aarhus County
2004/2005
Member of Thinktank on Art, technology and culture in Aarhus
2005
Consultant to the Municipality of Aarhus, Committee of visual arts
2001
Conference for the Ministry of Culture, "Space and Spatiality"
at Designskolen Kolding
1989/ 90
Art – Science I &II, Herning Folk High School
Selected Publications
2012
Video "LIGHT and voices
2011
Cataloge and 6 videos "LIGHT – Landscape and Voices"
2010
Video "Gellerup – Light and Change"
2009
Video "From Evening till Morning"
2001
Catalogue "Space and Spaciality", DK
1998
Video "Ögonblicket – Ögonblicken"
1995
Catalogue of sketches, "Peace Sculpture 1995"
Catalogue, "Peace Sculpture 1995"
1993
Catalogue, "The Line – the Light"
Video, "The Line"